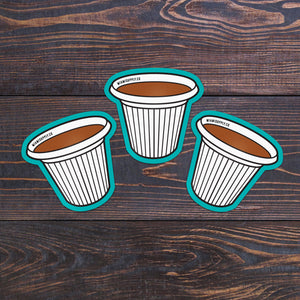 The Cuban cafecito cup sticker 3-pack

**Free domestic shipping**
Give your laptop, notebook, skateboard or little sister that extra caffeine boost.
This cafecito sticker is designed to stick to stuff. All kinds of STUFF.

Overly technical details you probably don't care to read:
• (3) Cafecito stickers
• Custom die-cut
• UV coated
• 2"x2"
• Full-color
• Colada Powered
• Que lindo

Side-effects of purchasing said sticker, you probably should read:
• High-fives
• Cuban coffee cravings
• Strangers coming up to you
• Free coffee
• Questions of "are you from Miami?"

Designed in a coffee shop in Miami, FL.
Ships USPS in a stamped regular-sized envelope.