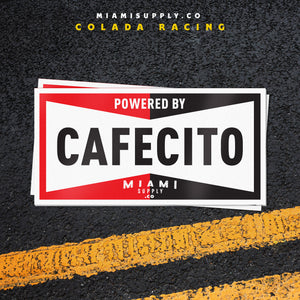 The Powered by Cafecito Sticker 3-pack

**FREE SHIPPING IN THE DOMESTIC UNITED STATES**
Part of our Colada Racing series of Cuban coffee fueled motorsports graphics. This Sticker let's the guy behind you know what's in your cup.
Product Specs:

• Dimensions 4" x 2" 
• Durable 
• Weatherproof
• Laminated vinyl
• Made in the USA
• Designed and ships from Miami

Also available as a bumper sticker on its own product listing. 
Ships USPS in a stamped regular-sized envelope.