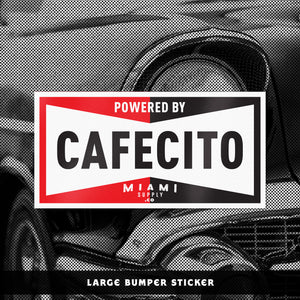 The Powered by Cafecito, bumper sticker
Our largest Colada Racing sticker yet. Perfect for a car bumpers, trailers, refrigerators, beer coolers, 1990's desktop computers, truck-sized transforming alien robots, etc. Basically anything BIG.
**FREE SHIPPING IN THE DOMESTIC UNITED STATES**

Product Specs:
• Dimensions: 7.5" x 3.75"
• Durable 
• Weatherproof
• Laminated vinyl
• Made in the USA
• Designed and ships from Miami
Ships USPS in a stamped regular-sized yellow envelope.