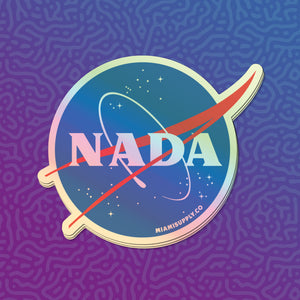 **Free domestic shipping**
Join the Miami Supply Co. Space Program with the NADA holographic sticker. Perfect for intergalactic journeys, long drives on the Dolphin Expressway, or just NOTHING in particular. 
Product Specs:
• 3" x 2.5" die-cut design
• Laminated holographic vinyl
• It shimmers
• Durable 
• Made in the USA
• Designed and ships from Miami
Total Quantity of Stickers: 3
Ships USPS in a stamped regular-sized envelope.