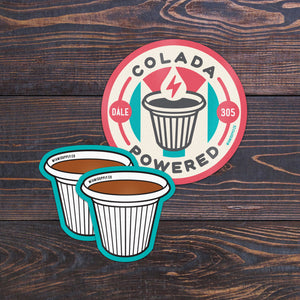 The Cuban coffee mixed cafecito sticker 3-pack.

**Free domestic shipping**
Give your laptop, notebook, skateboard or little sister that extra caffeine boost.

Each pack contains:
• (1) 3"x3" round Colada Powered sticker
• (2) 2"x2" die-cut cafecito cup stickers

The Colada Powered sticker is designed to stick to stuff. Your stuff mostly, but other people's stuff too (though it's nice to ask for permission).

Side-effects of purchasing the Miami Cafecito sticker pack you probably should read:
• You'll probably end up drinking more coffee
• Cafecito cravings
• Giggles from strangers
• I'll buy you coffee, if I spot you in the wild...at a coffee shop
• Questions of "bro, wanna get a coffee?"

Designed in a coffee shop in Miami, FL.
Ships USPS in a stamped regular-sized envelope.