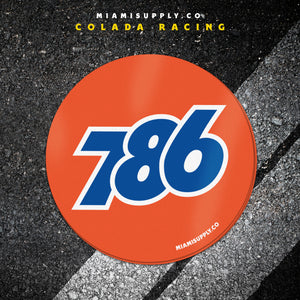 The 786 Colada Racing sticker 3-pack

**Free domestic shipping**
Many moons and empanadas ago, a bright-eyed version of you walked into Metro PCS looking to get your very own cellphone. A world of freedom, opportunity, and having to call your mom at 11:59pm every Saturday night awaited. You don't know how it happened, but it happened fast. Somehow you got stuck with a 786. The gravity of the moment has haunted you for 15 years. Damn you, salesman. But what's done is done. It's time to take pride in that area code. You're not a second-class citizen. You're a first-class sticker owner.


Product Specs:
• 3" x 3" circle design
• Durable 
• Weatherproof
• Laminated vinyl
• Made in the USA
• Designed and ships from Miami

Total Quantity of Stickers: 3
Ships USPS in a stamped regular-sized envelope.