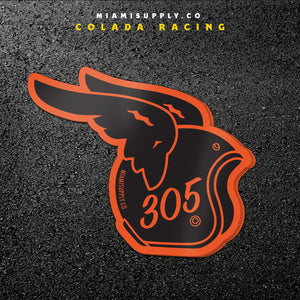 The 305 Colada Racing Helmet sticker 3-pack

**Free domestic shipping**
Take pride in the 305 with this motorsports inspired racing sticker. Guaranteed to make your laptop, skateboard, or minivan look 10% faster.

Product Specs:
• 3" x 2.54" die-cut design
• Durable 
• Weatherproof
• Laminated vinyl
• Made in the USA
• Designed and ships from Miami

Total Quantity of Stickers: 3
Ships USPS in a stamped regular-sized envelope.